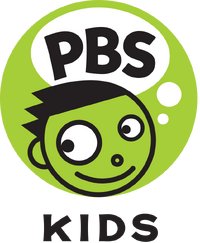 PBS Kids is the brand for most of the children's programming aired by the Public Broadcasting Service (PBS) in the United States. Some public television children's programs not produced by PBS member stations or transmitted by PBS which is produced by independent public television distributors such as American Public Television are not labeled as "PBS Kids" programming, and it is mainly a programming block branding.
History
The framework for PBS Kids was established as part of PBS's "Ready to Learn" initiative, a project intended to facilitate access of early childhood educational programming to underprivileged children. On July 11, 1994, PBS repackaged their existing children's educational programming as a new block called "PTV". In addition to scheduled educational programming, PTV also incorporated interstitial content such as "The P-Pals", which featured animated characters shaped like PBS logos delivering educational content from their fictional world, "PTV Park". These interstitial shorts were aimed at younger children. Older children were targeted with live action and music video interstitials.
On September 5, 1999, the PTV brand was retired. Children's programming on the PBS network was then rebranded with the introduction of new bumpers, idents, and promos featuring the P-Pals' replacements, Dot and Dash, (designed by Richard McGuire and produced at Lee Hunt Associates, later produced at Primal Screen) on September 6, 1999. Along with the block of programming on PBS, PBS Kids lent its name to a separate television network, which launched on the same date and was targeted to children from 4 to 7 years old. The PBS Kids Channel ran for six years and was largely funded by El Segundo, California-based satellite provider DirecTV. The channel was shut down on September 26, 2005, in favor of a new commercial cable and satellite joint venture, PBS Kids Sprout, which was developed in partnership with Comcast (who later bought full control of the network via NBCUniversal). About half of PBS's member stations operate their own children's channels as multicasting services.
Until late 2013, PBS Kids programming was split into two sub-blocks: the PBS Kids Preschool Block and PBS Kids Go! (the latter in turn replaced PBS Kids Bookworm Bunch, which ran from 2000 to 2004). On May 8, 2013, PBS Kids programming was added to the Roku streaming player. On May 15, 2013, PBS Kids announced that Thomas & Friends, which had aired mainly on weekends on most PBS stations, would be moving to the daily schedule starting on October 7, 2013, due to an increase in ratings.
Community content is available under
CC-BY-SA
unless otherwise noted.